22nd MET Mid-Am Results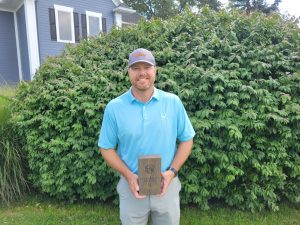 WEST CHESTER TOWNSHIP, OH – The 22nd MET Mid-Amateur Championship was played at Wetherington Golf & CC on August 16-17, 2022.
The event was lead after Day #1 by Matt Wetterich and Pete Betzold with matching 70's. The leaders would have been joined by Alex Rodger had he not suffered a late hiccup on the 18th hole recording a triple bogey with a ball out of bounds.
On Day #2, Alex Rodger caught fire. He went out with a 4-under par 32, then made 3 additional birdies on the back nine. It all seemed like he was cruising to an easy victory till the dreaded 18th hole. His tee shot again finished out of bounds leading to another 7. This opened the door for Mark Daniel to force a playoff. Mark needed to birdie the final hole, but his 25 foot birdie putt slid by the hole allowing for a one stroke margin of victory for Alex. This is Alex's third victory in the MET Mid-Amateur.
A special thanks to the staff & members at Wetherington Golf & CC for hosting the MET Mid-Amateur.