Inaugural Women's Match Play Results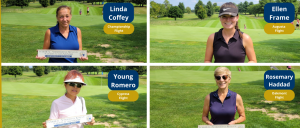 HAMILTON, OH – The Inaugural MET Women's Match Play was played the last three days (August 23-25) at Hamilton Elks Golf Club. Each match was worth one point for the front nine, one point for back nine, and one point for overall.
In the Championship Flight, Linda Coffey from Hamilton Elks was victorious. She completed her last two matches winning 3 and  2.5 points respectively to add to her 7.5 point total.
In the Augusta flight, Ellen Frame had a dominating performance. She won 8 of a possible 9 points to win her flight by three, the largest margin of any flight winner.
In the Cypress flight, Young Romero was able to capture the title by winning 2 points on the final day. She was aided by Peggy Kelley taking all 3 points from Barb Rohs her closest competitor on the final day.
In the Oakmont flight, Rosemary Haddad was in a close match with Trisha Reperowitz. Trisha needed to win 2 of 3 points, but the opponents tied across the board giving Rosemary the win with 7 points.
A special thanks to the members and staff at Hamilton Elks Golf Club for hosting the inaugural event.