USGA US Amateur Four-Ball Qualifier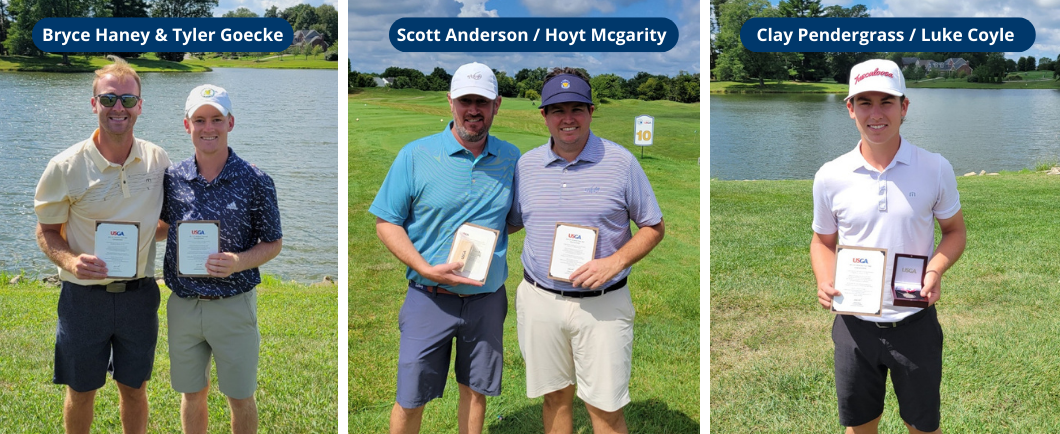 LOVELAND, OH – Oasis Golf Club has the host for USGA U.S. Amateur Four-Ball on August 29 – 30, 2022. The event was impacted by weather with lingering thunderstorms causing the suspension of play at 3 PM on Monday and the inability to resume. Play was resumed at 8:30 AM on Tuesday, August 30th with 16 groups returning to complete their rounds.
After the completion of regulation play, Clay Pendergrass & Luke Coyle were our medalist with a 10-under 62. They were followed by Scott Anderson & Hoyt McGarity with a 63. There were 4 teams tied at 68 for the final qualifying spot.
The playoff included the teams of Jack Herceg / Camden Solomon, Matt Emery / Steven Mann, Conner Lash / Scott Thompson, & Bryce Haney / Tyler Goecke. The Matt Emery/Steve Mann team were eliminated on the first playoff hole, but it took three more holes to eliminate the second team. Tyler Goecke & Scott Thompson made birdie on the 13th hole so the Wright State affiliated teams advanced to determine the final qualifying spot. On the sixth playoff hole, Bryce Haney rolled in a 15 foot putt for birdie as their competitors putt slid by to advance him & Tyler to the National Championship.
The USGA Four-Ball Championship will be played on May 20-24, 2023 at the Kiawah Island Club (Cassique & River Courses).
A special thanks to the staff & members at Oasis Golf Club for adjusting their schedules to accommodate the lightning delays.