53rd MET Handicap Results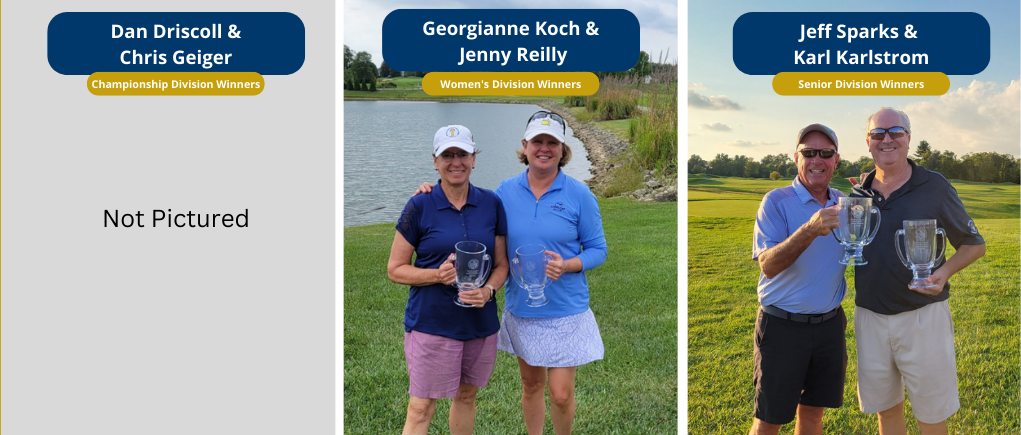 LOVELAND, OH – The 53rd Metropolitan Handicap Championship was played at Oasis Golf Club on September 19th. The four-ball stroke play net event was divided into three different divisions.
In the Championship Division, the team of Dan Driscoll & Chris Geiger prevailed with -11 under 61. Dan birdied 2 holes along with 5 net birdies on route to shoot his lowest round ever and help his team achieve a 2-stroke margin of victory.
In the Womens Division, the team of Georgianne Koch & Jenny Reilly caught fire around the turn. They net eagled the par 5 9th, then shot 30 on the back nine with 3 gross birdies and a net eagle to fire -8 under 64 for the title.
In the Senior Division, Jeff Sparks & Karl Karlstrom had to make 4 gross birdies & 2 net birdies to edge the team of Curt & Rick Knapp. Jeff & Karls 62 was good enough for a one-stroke margin of victory.
A special thanks to the staff at Oasis Golf Club for hosting.
Brief Summary
Championship Division
| | | |
| --- | --- | --- |
| 1 | Dan Driscoll / Chris Geiger | 61 |
| 2 | Benjamin Blemker / Todd Gailar | 63 |
| 3 | Thomas McNeil / Kyle Pollock | 65 |
| T4 | Michael Kroeger / Rob Kroeger | 66 |
| T4 | Josh Winterberger / Ryan Klein | 66 |
Women's Division
| | | |
| --- | --- | --- |
| 1 | Georgianne Koch / Jenny Reilly | 64 |
| 2 | Laura Deters / Janice Kunkemoeller | 66 |
| 3 | Young  Romero  / Peggy Kelley | 67 |
| T4 | Rebecca Ward / Jennifer Goldenberg | 69 |
| T4 | Candace Anderson / Doris Winstel | 69 |
| T4 | Denise Wareham / UnAe Mueller | 69 |
Senior Division
| | | |
| --- | --- | --- |
| 1 | Jeffrey Sparks / Karl Karlstrom | 62 |
| 2 | Curt Knapp / Rick Knapp | 63 |
| 3 | Donald Scipio / Edward Smith | 64 |
| 4 | Jim Ebel / Brian Wittmer | 65 |
| T5 | David Mosley / Ken Casteel | 66 |
| T5 | Kevin Romard / Jeff Tepe | 66 |
| T5 | Buzz Deters / Dave Campbell | 66 |
| T5 | Todd Straley / Adam Bortz | 66 |